Days of Blood & Starlight
by
Laini Taylor
My rating:
5 of 5 stars
Where "Daughter of Smoke & Bone" gleamed bright as moonlight, "Blood & Starlight" shows the darker side of the moon. Stakes are risen higher in this edgy sequel. The worlds of Eretz and Earth are painted with even broader strokes, as the war between angels and monsters deepens. Once I got to the halfway point I had a difficult time putting the book down. While I would have liked to see more interaction between Akiva and Karou, I enjoye Zuzana and Mik's storyline. The characters grew and matured greatly since the last novel and I can't wait to read "Gods & Monsters" for all its twists and turns.
View all my reviews
American Gods
by
Neil Gaiman
My rating:
4 of 5 stars
Neil Gaiman's homage to America is a wild ride of mixed genre's, woven together much like the gods he writes about. It's difficult to review this novel because it evokes different emotions with every chapter and random encounter. I haven't read anything quite like it and because of this, enjoyed it immensely. Definitely a worthy read for any fans of fantasy, mythology and Americana. For an American-themed novel written by a British man, this strikes true to the heart of what this country was founded on and serves as a commentary of past and present strengths and failings. I look forward to the day we can visit Shadow and all the gods in America again.
View all my reviews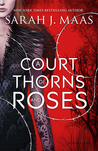 A Court of Thorns and Roses
by
Sarah J. Maas
My rating:
5 of 5 stars
I absolutely adored "A Court of Thorns and Roses". I knew little more than to expect the excellence of Sarah J. Maas's writing when I began this book. I loved the Beauty & the Beast elements combined with the complexities of a war between the human and faerie world. The romance was swoon-worthy and entertaining and the characters full of life. I didn't want the story to end and eagerly anticipate the next installment.
View all my reviews