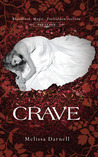 Crave
by
Melissa Darnell
My rating:
5 of 5 stars
Five star reviews are perhaps rarer for me to click out than they once were. That comes from a prolonged exposure to the best and worst of recent fiction, both Indie and Traditional. On a first glance, besides the gorgeous cover art, Crave seems like just another teen vampire romance. With a nod to the literary community, I feel I have read almost every twist and turn of this genre possible. Melissa Darnell proved me wrong. Crave doesn't begin like you expect it to, with quirky heroine, Savannah the target of bullying and classic case of the misfits. And much like the "Misfits," she undergoes one radical, shocking change.
This modern Shakespeare drama is told from both Savannah and Tristan's perspectives. I found it refreshing, seeing how the actions of one teen were constantly misinterpreted by the other. While tiresome at times, it reminded me all to well of the feelings I felt not that long ago. And perhaps that is where Melissa Darnell best casts her magic. Not only are you pulled in by such fleshy characters, but you share their pitfalls and highs. For a precious few hours you do what you paid your hourly wages for, an escape into the lives of very different yet hopelessly familiar highschoolers and their parents.
The East Texas setting constantly offers nostalgia for me, and the supernatural elements flow naturally into the narrative. The dialogue is fresh and peppered with pieces of Friday Night Lights drama with a refined version of Twilight. Savannah doesn't rush around desperate to break the rules set in place to protect her family. Darnell successfully shows how guilt and love and raging hormones can couple with the paranormal.
Don't miss this read! If you're anything like me, you'll be rushing to purchase the rest of the series and more.
View all my reviews